Jamie Forbes began practicing yoga close to six years as a form of exercise and to find a more natural way to help decrease anxiety and stress. She never would have thought that Yoga was going to be a way of life for her. Yoga has not only benefited her physically, but also mentally and spiritually. She has found her balance in life through yoga and meditation. With everything she goes through in life, her mat is where she goes to allow herself to embrace it. Her favorite forms of Yoga are Ashtanga and Vinyasa. Yoga has combined the spiritual, mental and physical aspects of her life together so beautifully. She feels that she has a purpose in life, which is to teach Yoga to the people in the community.
Jamie is originally from Newport News, Va and now resides in High Point, NC with her beautiful children. She is a 200hr RYT, which she obtained her certification at MindBodyFitness Yoga in Greensboro, NC. The classes she enjoys teaching are Vinyasa, Slow Flow, Deep Stretch and Flow and Power Yoga. Before her journey to become a yoga teacher, Jamie had been in the healthcare profession since 2002. She feels now instead of taking care of patients in a hospital, that her purpose is to teach Yoga and give back to the community.
Not About The Perfect Pose
Being a good yoga teacher isn't about doing the perfect, most difficult pose. It's about having good energy & being passionate, loving, energetic..& sharing this with others. Jamie has patience, character & LOVE for her students. Jamie has for sure made an impact in my life and on the mat~ love and light.
- Brooks Gonzalez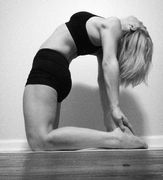 Enhance My Spiritual Strength
Consistent practice of yoga is vital to my well-being. I have grown to admire and fully appreciate the guidance Jamie Forbes is able to provide. Her classes not only challenge me physically, they enhance my spiritual strength as well. She teaches me to draw peace inwardly in order to practice peace outwardly. The most important lesson I have learned from her teachings is how to practice yoga in REAL life, and not just on the mat.
- Nichol Walters
I started practicing with you a little over five years ago at Pure Light. You have taught me many things. I was 61 at the time we met. Addicted to your power flow classes.
- Thomas Henry Little III
Improving My Thoughts & Attitude
Yoga has been a huge part of my life for the past 3 years. After meeting Jamie, my thoughts and attitudes have not only improved, but they have changed for the better in so many ways. Jamie is the most influential teacher I have had and continues to inspire me as an individual. She works diligently to ensure every student receives the best possible class and that you leave feeling challenged, rejuvenated, and at peace. She is a saving grace, and I could not be more thankful to have been led to her practice.
- Cera Allred
Embrace Your Own Individuality
Jamie's yoga classes have the most incredible vibe - grounded, groovy and rhythmic...her personality and style are interwoven into every class in a way that allows her students to embrace their own individuality. As a result, she shares the heart of yoga in the most accessible way. I always leave Jamie's classes feeling physically and mentally rejuvenated and so grateful to be able to bring my whole self to the practice of yoga!
- Holli Ilderton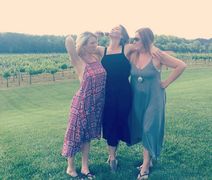 I've had the pleasure of knowing Jamie Forbes for over 8 years now. With each passing year, I have seen her grow and evolve in so many ways. Most importantly, I've watched her journey with Yoga from afar; seeing how it truly changed her life in so many ways. Within the past year, I finally got the nerve to try one of her classes and I immediately fell in love. I was in the midst of trying to find my footing with weight loss and ultimate control over my life.
I found it that day in her class. Her dedication to her students and her pure love for Yoga radiates in every one of her classes and it carries over into her day to day life with her children, family, and friends. She's taught me that Yoga isn't just a class but simply a way of life. I couldn't be more proud to call her my friend, my inspiration, and most importantly my sister.
- Stephanie LeCompte
Contact Jamie
Use this form to ask Jamie a question. Multi-class passes are available at the studio. Ask Jamie for details on your next visit.
Class Pricing
$12 Drop In | $10 Student | Month Unlimited $75 | 10 class pass $90 | 5 class pass $45 | New Student Special $30
To register for a class ahead of time email Yogajamie108@gmail.com or use the contact form to the left.
Get to Class
Classes are held at Free Spirits Yoga
337 Martin Luther King Drive
Greensboro NC 27406
336.689.1641